Investment rotation - whether between sectors, global regions, or stock, commodities, and bonds - is always a part of a secular bull market. It's honestly the glue that holds everything together.
During bear markets, when money rotates away from an area of the market, it usually just moves to the sidelines. Bull markets are different, however, as money typically finds its new home in another area.
Looking at pre-Covid investments to the anticipated post-pandemic investments has been a perfect example of how investment rotation works, but to a much greater degree. We've all heard the "rising tide lifts all boats" adage, but the bull market rotation that we've seen over the past year has been more like a tidal wave than a rising tide.
The following two chart illustrates how investment rotation works, with the technology sector going from strength to weakness - and financial stocks taking the lead in US sector performance:
Technology sector: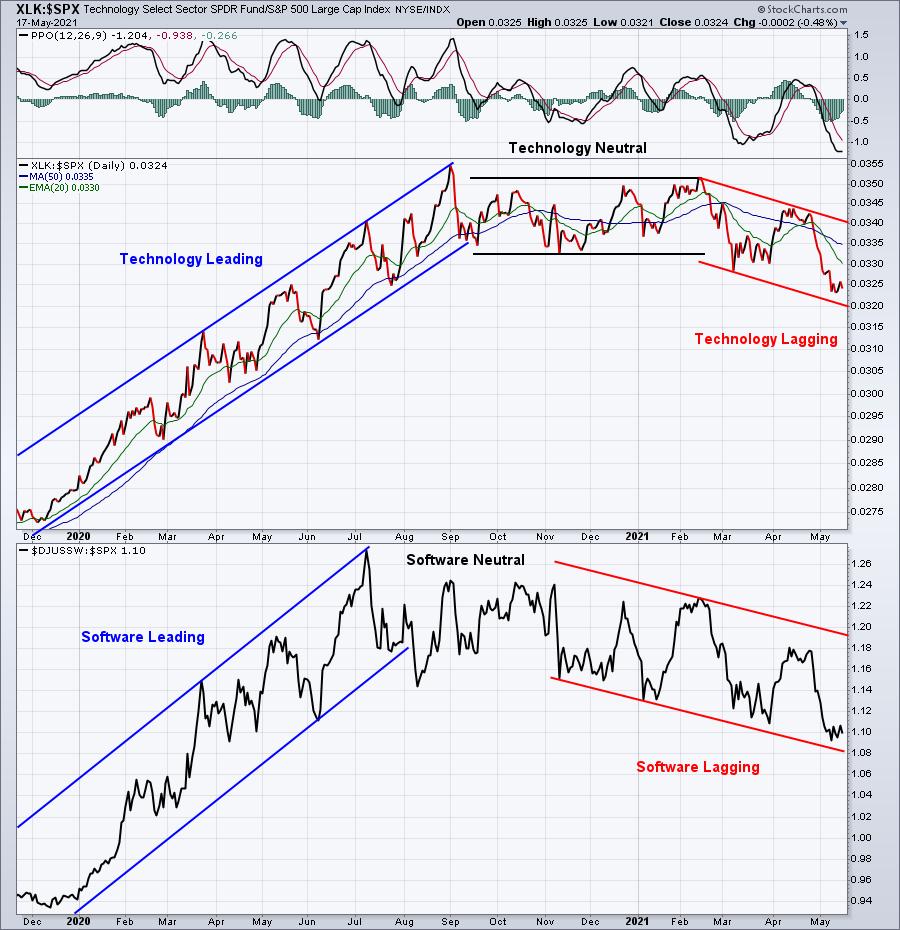 Technology, and its software component, have gone through the good, the bad, and the ugly. It's currently in the ugly phase.
And it doesn't matter whether you're a long-term investor or a short-term trader, you need to be aware of any investment rotation taking place. Long-term investors may not care in terms of buy/sell decisions as they tend to hold through everything, but they should at least be aware of the reasons why their portfolios are strengthening or weakening.
In a upward trending bull market, when one person's portfolio is doing well and another's is lagging, it's typically due to investment rotation. For short-term traders, it's much more important to recognize market shifts as soon as possible. Traders will want to deploy capital in different areas as the market winds change.
If you're trading technology stocks, as we see in the chart trends above, the opportunities to make money will vary greatly depending on whether it's 2020 or 2021. If you've been following technology these past few months, then you know quite well how impacted individual technology names have been in 2021.
Now let's look at the Financial sector: (XLF).
As the re-opening of our (hopefully) post-Covid economy has occurred, bond traders have been exiting the US Treasury market. That's sent interest rates surging ("surging" might be a bit dramatic considering how low they have been) and one sector that almost always benefits on a relative basis during a period of rising interest rates is financial sector.
Banks and life insurance companies typically benefit directly from higher rates. Let's look to see how the financial sector (and banks) have evolved over the past 18 months: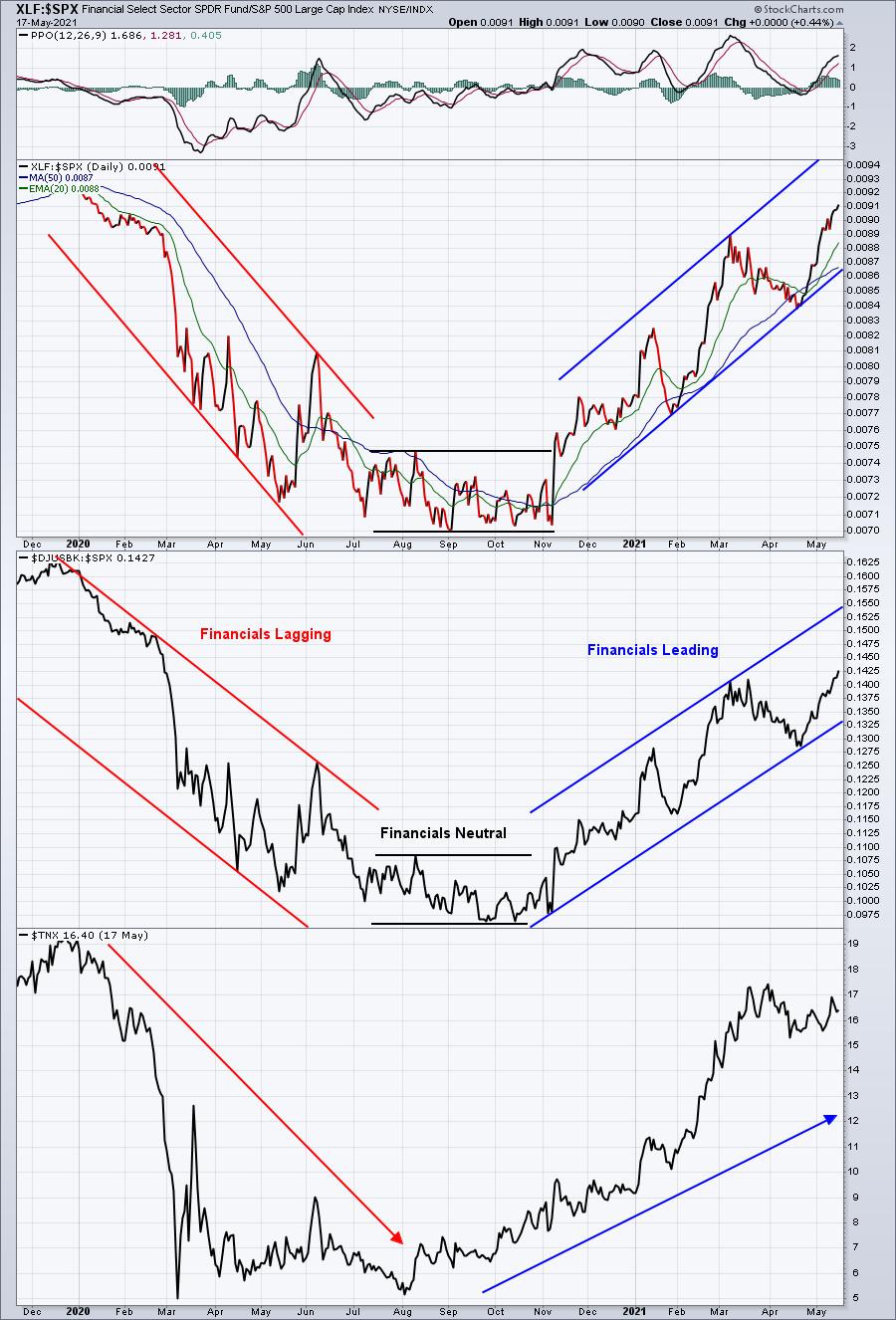 At the very bottom of the above chart you can see the rise of interest rates as reflected by the 10 year US Treasury yield. Notice how the rise in the yield correlates almost 100% with the rise is the financial stock sector since the Fall of 2020?
Plus, if you look at the two charts above and think "mirror image", that's what we need to watch for when making investment decisions.
Keep in mind, however, that no investment system is perfect or guaranteed. And weak investment performance over a specific period of time isn't washed away by past periods of excellent relative performance.
Investing is a humbling experience and even the professional money managers like myself better be trying to learn and adjust every day. We NEVER know it all - and successful strategies change over time. Its a matter of having the tools to identify investment rotation before the mob and make money with that knowledge.
Rocky Boschert